Manage Claims
First 24 Hours
Medical care
Depending on your state's workers' comp laws, you may or may not be able to "direct" your injured employee to your healthcare provider. In all states, MEMIC recommends that you partner with an occupational medicine provider. You can then either "direct" or "recommend" that your injured worker be treated by this provider, depending on your state's law. You should call your provider to alert them and give a brief description of the employee's job. The provider should give you and your employee documentation of work restrictions and a future treatment plan.
Prescriptions
Provide a pharmacy First Fill letter to your injured employee so that, if needed, they can fill a short-term supply of medication immediately while the claim is being filed with MEMIC. If you need a copy of the First Fill Letter, please contact CorVel at 1-800-563-8438.
Accompany injured worker to hospital
You or a supervisor need to get involved from the moment an injury is reported. Tell the employee of your wish to stay involved in their recovery and return-to-work process.
Get the facts to complete the injury report
Document how and why the injury happened by talking with your injured worker and all who witnessed the accident. Immediately institute necessary safety precautions.
Contact MEMIC promptly
All medical and lost-time claims should be reported within 24 hours. MEMIC will send both you and your employee a copy of the injury report, as well as take care of filing required reports with your state regulatory office.
First 10 Days
Stay involved
Talk with your injured employee about their condition, their functional capacity and your desire to have them back at work. Open communication helps all involved.
Identify return-to-work options
Work with your employee and health care provider to find transitional duties. Prepare a written return-to-work plan and share it with your employee, health care provider and employee's supervisor.
Practice full disclosure
Tell your employee their rights and benefits under the workers' compensation system and encourage them to contact our claim department or visit our website if they need additional help. Good information avoids conflict.
Follow procedures
Submit, if applicable to your state's laws, wage paperwork as soon as possible if your injured employee will be out of work beyond your state's waiting period. Notify your MEMIC claim handler of any new information and forward medical bills to MEMIC for processing.
Conflict resolution
Sometimes workers' compensation claims are disputed by either the employee or the employer. When this happens, each state has its own legal process that aids resolution. Talk to your claim handler or contact your state's workers' compensation agency to find out more.
Prevent Injuries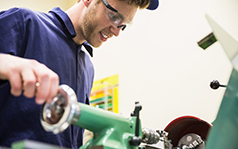 Whether your workplace is very safe, pretty safe or in need of improvement, we're your partner in safety. You can trust us to keep your employees out of harm's way.