Discounted Safety Footwear Program
Workplace slip & fall injuries cost employers and employees $70 billion each year in workers' comp and medical expenses.
To help prevent slip-and-fall injuries, MEMIC has partnered with Shoes For Crews®, the global leader and pioneer in slip-resistant footwear, to offer discounted pricing for your managed safety footwear program.
Help your employees reduce workplace accidents and lower costly claims with a Shoes For Crews managed safety footwear program. Shoes For Crews will partner with you to develop and implement a customized safety program that best fits your needs and goals, such as:
Reduction of as much as 80% in employee slips, trips, and falls
Protection from devastating accident claims than can total $24,000 each
State-of-the-art slip-resistant outsole technology
Hassle-free, customized corporate programs with a hands-on approach
The dedicated Shoes For Crews team does the heavy lifting from start to finish, helping you customize your online ordering to help drive adoption and achieve safety goals.
MEMIC policyholders receive a 15% discount on all shoe types, including a special price of $24.99 + shipping for three ice cleat products. To access additional information, please log in to MEMIC's Safety Director. For questions or more information about this offer, contact your MEMIC safety consultant.
Prevent Slips, Trips, and Falls with Ice Cleats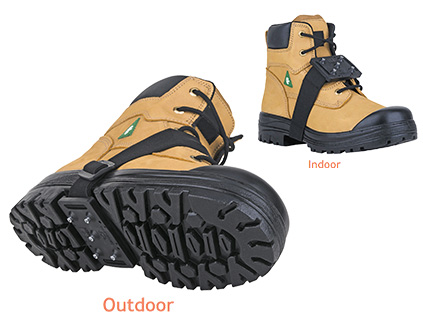 Help prevent slips, trips, and falls during the winter season with ice cleats. MEMIC policyholders are eligible to receive discounted rates through Shoes for Crews®