Winter Safety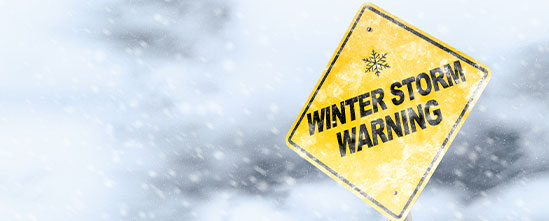 Did you know falls at home and at work are the second leading cause of unintentional injury-related death in the United States? In 2020, 805 workers died in falls while on the job, and another 211,640 were injured badly enough to require days off from work, according to the National Safety Council.
Those statistics include 13,960 cases of falls on ice, sleet, or snow, according to the U.S. Bureau of Labor Statistics. Of those cases, 5,870 required medical intervention and 520 were serious enough to require hospitalization.
When you consider one claim from an injured worker with a closed-head injury caused by slipping on ice can cost $500,000 or more, you realize how failure to manage ice, sleet, or snow around your business footprint can be a slippery slope indeed.
But here's the thing: While injuries and fatalities from slips, trips and falls are costly, they also are 100% preventable. Don't get caught unprepared. Winter weather can be unpredictable. Being proactive as the seasons change, instead of reacting at the first ice or snow, can help safety managers and building supervisors marshal and deploy the right resources to reduce slip-and-trip exposures at their places of business. This is a good time to remind workers about proper footwear and winter walking strategies.
How do we avoid these tragic and preventable injuries every winter?
MAINTAIN WALKING WORKING SURFACES. That means to SHOVEL, SALT, and SAND all your workplace walkways, stairs, and parking lots to increase traction on walking working surfaces. These are tried and true methods for reducing outside slip-and-fall events in the winter.
EVALUATE YOUR FACILITY. One of the areas overlooked for slip and fall prevention is the roof. CHECK YOUR ROOFS for overhangs that could dump accumulating snow on pedestrians or drip water onto cold pavement below. Safely remove snow or barricade the area to prevent traffic through the danger zone. Target map your facility and grounds to help prioritize problem areas.
PROVIDE GUIDANCE to employees on plans for snow and ice removal, including details on timing and alternate routes while clearing is in progress.
ADD TRACTION to footwear. Ice cleats or other traction enhancers can be added to footwear to improve traction. These are especially important for those on your team maintain the walkways.
Along with these simple steps, MEMIC provides resources to help policyholders identify winter weather risks, along with controls that can help keep you and your team safe. Many of these are listed below. If you are insured by MEMIC, get access to blogs, fact sheets, advisory posters and many of resources from the MEMIC Safety Director—type "winter safety" in the search field.
As we say at MEMIC, we're better together. Winter weather-related injuries are preventable. Our mission is to keep all our policyholders safe from avoidable risk.
Help spread the word (and the sand and salt)!
Resources
37 Degrees Winter Safety Handout
Winter Slip & Fall SAFE Poster
Vehicle Entry and Egress Safety Minute