MEMIC Hires Améthyste Spardel as MEMIC Express Underwriter
November 18, 2019 |

Corporate
PORTLAND, Maine – Améthyste Spardel of Newmarket, New Hampshire has been appointed a MEMIC Express Underwriter by workers' compensation insurance specialist The MEMIC Group. Spardel will continue to developing the MEMIC Express small business segment.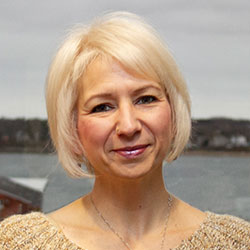 Améthyste Spardel joined MEMIC as a MEMIC Express Underwriter in 2019 with 12 years of experience in the insurance industry. From 2007 to 2014 she was with Willis of New Hampshire as both an Associate Underwriter and a Program Underwriter. Following, she was an Account Manager with both PMC Insurance Group and Cross Insurance.
Graduating from Cegep de la Gaspésie et des Iles in Gaspé, Quebec in 1992, Améthyste has an associate's degree in Psychology. She also has earned her AAI-M insurance designation and her P&C Producer license.

Améthyste resides in Newmarket, New Hampshire with her husband, her bulldog and her ragdoll cat.
Améthyste has 12 years of experience in the insurance industry as an Associate Underwriter, Program Underwriter and Account Manager. She received her Associate's degree in psychology from Cegep de la Gaspésie et des Iles in Gaspé, Quebec in 1992, and has earned the AAI-M insurance designation as well as a property/casualty insurance producer license.

###
About MEMIC
The MEMIC Group includes MEMIC Indemnity Company, MEMIC Casualty Company, and parent company Maine Employers' Mutual Insurance Company; all rated "A" (Excellent) by A.M. Best. As a super-regional workers' compensation specialty insurer, The MEMIC Group holds licenses to write workers' compensation across the country. The group insures more than 20,000 employers and their estimated 300,000 employees, and holds more than $1.4 billion in assets. The group maintains offices in New Hampshire, Connecticut, New York, New Jersey, Pennsylvania, Virginia and Florida, in addition to its headquarters in Portland, Maine.